Any stop gas spring is also called balance gas spring or friction gas spring. It also has the support function of storing high-pressure inert gas inside, which is different from the conventional gas spring. It is mainly between the performance of free gas spring and controllable gas spring. It can be stopped at any position without any external control structure, but without additional locking force.
Internal structure of air stop spring
It mainly realizes functions through internal structure. During the operation, the air spring is stopped at will. The operation is simple without an external control switch. The supported object can be opened directly and released at any position, which improves the work efficiency, shortens the use stroke and increases the service life of 5% products. This series of products have the advantages of simple function and operation, and are used in medical, cabinet, video equipment, electronic equipment and other fields.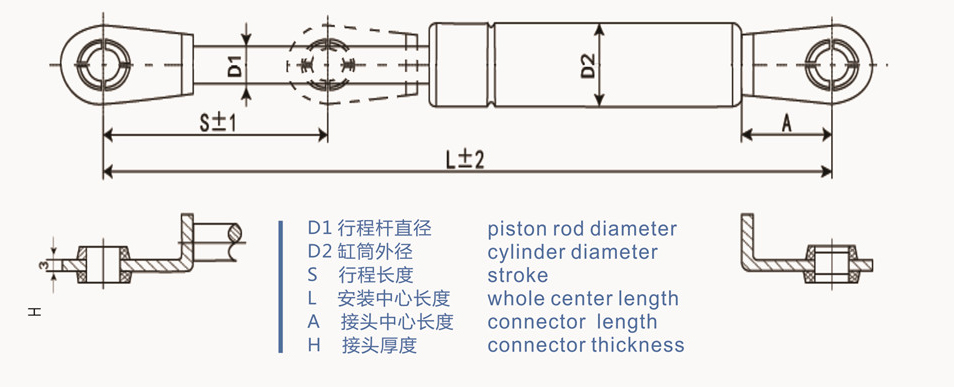 Type

Model

Whole center length

Stroke

Piston rod diameter

Cylinder diameter

Force

Connector

Any stop gas spring

180/60

Q32T2

6/15

180

60

6

18

Require

Q32T2

183/40

Q1Q1

6/18

183

40

6

18

Q1Q1
Guangzhou TieYing Spring Co.,Ltd. was established in 2002, and we have many years of experience in the gas spring industry. TY range of product including : Compression Gas Spring, Dampers, Locking Gas Spring and Tension Gas Spring. Seamless steel, Stainless steel 304 and 316 alternative can be made for all our products. Certification including : SGS 200.000 Cycles Durability Test, IATF16949,ROHS, IATF16949, ISO9001.Our product are widely used for automobile, medical equipment, machinery, and furniture applications and so on.
---
Post time: Oct-12-2022